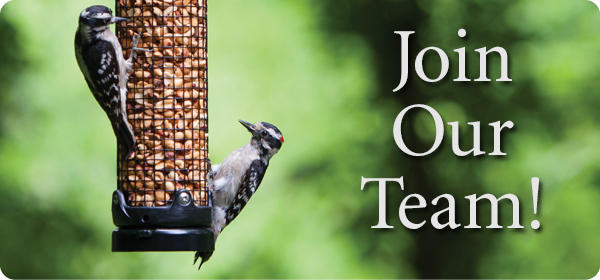 Are you our next great employee?
We are currently seeking Team Members who are "for the birds". Wild Birds Unlimited® is the first and largest franchise system of retail stores catering to the backyard nature enthusiast throughout North America. The difference between what we offer and what other retailers offer goes far beyond what we sell. It's who we are. Wild Birds Unlimited Team Members give our stores a competitive advantage that cannot be surpassed. Enthusiasm, professionalism, informed advice and superior customer service combine to help you in your role as a Team Member who can make a difference. Come join our team! Please apply in person!
Requirements:
Previous retail experience preferred, but not required.
Ability to lift and carry seed for our customers – a foundation of our service!
Will consider both full-time and part-time applications that meet the needs of the business, but a flexible schedule and the ability to work weekends are required.
Our goal is to provide quality products, service, expertise and a high energy shopping experience. Help customers bring nature into their own backyards and lives. Come join our team!
---